Moderators: Zmokey, Tovi, fanto
Posts: 1748
Joined: Mon Nov 27, 2006 11:36 pm
Falls es jemand noch nicht mitbekommen haben sollte:



---
Posts: 403
Joined: Fri May 28, 2010 11:48 am
danke dir
Kisten haben keine Seele
---
Posts: 1565
Joined: Wed Dec 27, 2006 6:32 pm
klingt episch
You do not have the required permissions to view the files attached to this post.
es ist gelogen, dass videogames kids beeinflussen. hätte pacman das getan, würden wir heute durch dunkle räume irren, pillen fressen und elektronische musik hören.
momentchen mal...

---
Posts: 11
Joined: Wed Oct 09, 2019 7:26 am
Yeah,

auf zu Level 50! Und noch viel weiter!
" Du dodl di! - Du dudl dö ist zweites Futur bei Sonnenaufgang."

---
Posts: 799
Joined: Wed Aug 12, 2015 6:39 pm

Pommes sind frittierte Sonnenstrahlen und deshalb gerade im Winter so wichtig.
---
Posts: 383
Joined: Sun Dec 21, 2014 11:21 pm
Aedin

wrote:

↑

Mon Nov 04, 2019 4:43 pm

http://www.vanion.eu/news/shadowlands-k ... itat-21054

AUREN!!!
und der Priester kann endlich Gedankenschlagfrostblitz in allen ausrichtungen nutzen xD
We need to be able to shapeshift into giant blue crabs. That would totally fix ... something.
---
---
Posts: 675
Joined: Tue Jun 16, 2009 10:38 pm
Alles Fähigkeiten die man bestimmt einmal pro Kampf benutzt, das macht das ganze Gameplay so viel besser!
---
Posts: 1748
Joined: Mon Nov 27, 2006 11:36 pm
So ging es mir auch, als ich das gehoert habe.
Nun fehlen nur noch die (15 Minuten) Buffs.
---
Posts: 293
Joined: Sun Jan 08, 2012 1:09 am
---
Posts: 8856
Joined: Sun Nov 26, 2006 12:38 pm
https://us.forums.blizzard.com/en/wow/t ... ons/571317
n this next build of the Shadowlands alpha, combat potions, such as primary stat potions and mana potions, now have a 5 minute cooldown. Additionally, they are no longer limited to one use per encounter. This is intended to make potion use less of a hassle, less expensive, and more decision-oriented in various situations throughout the game.

In raid encounters, players will still have the option of using a potion at the start of an encounter, but using a potion just prior to and as close to the pull as possible will no longer be required. Longer encounters will now offer up more than one moment to use a potion for maximum tactical advantage. Ending a raid boss encounter with a wipe or a win will reset the potion cooldown.

In dungeons, spacing out potion use will place more emphasis on deciding the most important times to use them.

In PvP situations where combat potions are allowed, such as War Mode, Battlegrounds, and Epic Battlegrounds, the rate at which you drop combat can vary greatly. This change will bring a consistent expected cooldown to combat potions when you see enemies consume them.
Gefällt mir, fällt das pre-pot gefuddel weg.
---
Posts: 6259
Joined: Sat Oct 10, 2009 3:50 pm
https://youtu.be/v7Zy7QjqYBY?t=165
Für die weekly Chest gibts evtl. neue Optionen. Je nachdem, was man die Woche gemacht hat, bekommt man mehr Items zur Auswahl. Aus welchem Pool, k.A. Es bleibt auch, trotz der Auswahl, immer nur 1 Item. Sollte einem trotz der Auswahl keins der Items zusagen, kann man Endgamewährung auswählen. Klingt toll.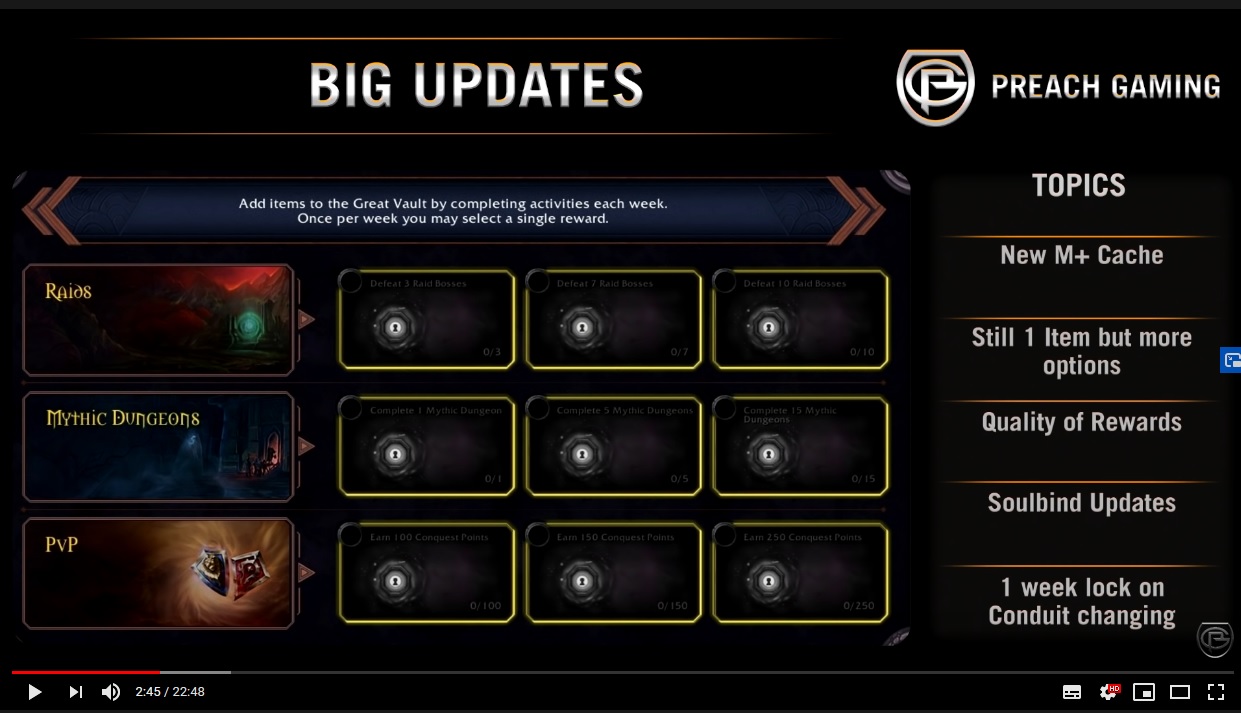 ---